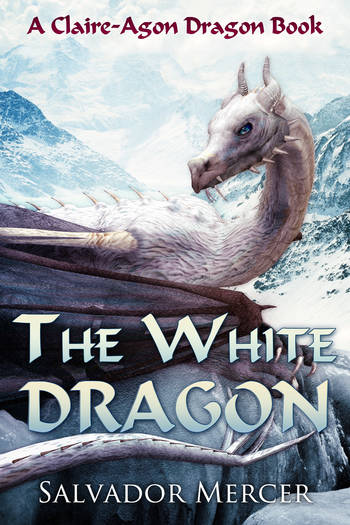 The White Dragon
A Claire-Agon Dragon Book (Dragon Series 4)
Series: Dragon Series
A thousand years ago, on the world of Claire-Agon, a war raged between men and dragons.
Culminating a life's worth of work, Eric finally has his mercenary group,The Hunt, recognized by the royal realms of Agon. His first mission: to find the scourge of Highstone Pass. The encounter changes his life forever.
Near death, accused of treason, and thought insane by his fellow mercenary leaders, Eric finds himself manipulated as a pawn, caught between the mighty realms of Ulatha and Kesh. Facing a destitute end to his life, Eric must gather together an unlikely group of companions to finish the task he was appointed, and reclaim his honor, but the sinister Kesh wizards, and a deadly, ancient, nemesis, have other plans.
Eric soon discovers that, in the world of Claire-Agon, when dealing with a White Dragon, sometimes ice burns hotter than fire.
Get the e-book:
Praise
"
GREAT BOOK-This is one of my favorite books! I could not put it down until the end. I was disappointed when it was done. Can't wait for the next one.
"
-- Christine Ascencio
Amazon Reviewer
"
EXCELLENT...LOVE MERCER'S WRITING SYTLE-Amazing story and writing... The Claire Agon Dragón story is astounish and keep you reading til the end... Recommend to read...
"
-- NRMorales
Amazon Reviewer
"
SUSPENSE, EXCITEMENT AND INTRIGUE, A LOT OF FUN READING-I'm reading all of the author's books in this series and it's hard to stop and take a break. It's extremely hard to find such an interesting and exciting author who not only writes intelligently but also provides top rated plots, characters and excitement in the stories.
"
-- JMN4555
Amazon Reviewer
Get the e-book:
Other Books in this Series: