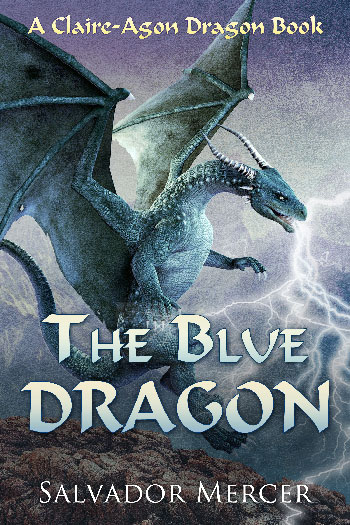 The Blue Dragon
A Claire-Agon Dragon Book (Dragon Series 1)
Series: Dragon Series
A thousand years ago, on the world of Claire-Agon, a war raged between men and dragons.
After an expedition of elite warriors kills an ancient nemesis, Seth the Sword Slayer, one of Agon's most feared assassins, finds himself in the middle of a mysterious string of killings targeting the members of his elite group.
As the Kesh wizards call a conclave of Agon's most powerful realms to Balax, the capital of Balaria, Seth attempts to set a trap and kill the rogue assassin in his homeland with the help of the governor's troops, the thieves' guild and his own assassin's order. Seth must not only save his city from a new threat of destruction, but also navigate the politically deadly waters of high intrigue from the gathered realms.
Seth soon discovers that, in the world of Claire-Agon, when dealing with a Blue Dragon, sometimes appearances can be deceiving.
Get the e-book:
Paperback available at:
Praise
"
EXCITING READ-Great story full of adventure lots of twist and turns that will keep one guessing what's coming next needless to say but I never seen what was next until it happened . What a great adventure full of excitement.
"
-- F. Lee Belcher.
Amazon Reviewer
"
BEST BOOK SO FAR!-Mainly about the top rated assassin and a female thief in which they go on a team quest to kill a blue dragon and it's drone. Their nation is hosting a meeting of other countries. Members of that quest are being assassinated. This book is so much better than the first book in this series. The blue dragons can discharged lightning from their mouths. Also those dragons and their drones can shift change into humans. Plenty of superb action!
"
-- Predator51
Amazon Reviewer
"
EXCELLENT BOOK OF A LAYERED AND FASCINATING WORLD. HIGHLY RECOMMEND!-Author Mercer has created a complex and layered world in the Claire-Agon series. If you have not read his other books, I think you should. If you enjoyed Goblin Emperor, you will like Mercer. There are political factions at work and they play deadly games; the reader never knows, and cannot trust, their intent. These dragons are not the lovable kind. Instead they are the terrifyingly apocalyptic and cunning scary kind. Magic is everywhere and it is not happy unicorn magic. These folks use magic for deadly force, deception, and always that pervasive sense of mystery. If you like layered, dense and strong writing, you will love this book as I did. The plotting is excellent, characterization has depth and bring these people to life. The foreshadowing is very good. There is romance and much intrigue. I really, really enjoyed this book.
"
-- MarieM
Amazon Reviewer
Get the e-book:
Paperback available at:
Other Books in this Series: