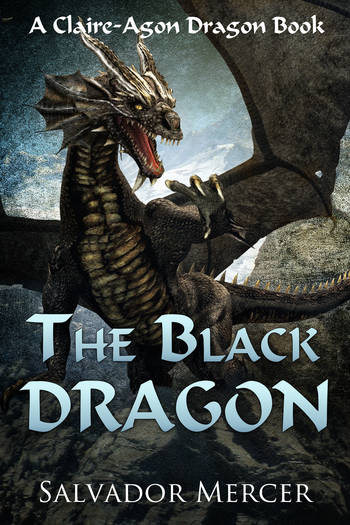 The Black Dragon
A Claire-Agon Dragon Book (Dragon Series 3)
Series: Dragon Series
A thousand years ago, on the world of Claire-Agon, a war raged between men and dragons.
When an expedition of elite warriors goes missing in the fetid Kero Swamp, Olivia Moross, Priestess of Astor and daughter of the regional prefect, is caught in the conflict between her divine holy order, the sinister Kesh wizards, and the nobles of the ruling class of Ulatha.
Seeking the fate of the lost expedition, and struggling to learn what might exist in the desolate Kero Swamp, Olivia finds herself battling human, beastly and supernatural forces. With the help of her father's nobles, and an unexpected Ranger of the Arnen, she must not only save her town, but also remain true to her beliefs in the pursuit of the truth.
Olivia soon discovers that in the world of Claire-Agon, when dealing with a Black Dragon, sometimes dead is better.
Get the e-book:
Paperback available at:
Praise
"
DRAGONS LIVE IN US-This book instantly transports you into another realm of fantasy. Anyone that enjoys books on dragons will enjoy this one. It is full of twists and turns and an ending I didn't see coming.
"
-- Sheri Vermilyea
Amazon Reviewer
"
I FELL IN LOVE WITH THE BOOK-I fell in love with the book, I couldn't stop reading it. The structure of the characters is very easily understood. Introduces readers to a variety of magical, and heartwarming relationships of the characters. There is a definite story as the series progresses and the move forward is very clever and exciting. Readers that can attach to characters will find that this happens with out you realizing until you least expect it. Easily memorizes and spellbinds readers of this genre and soaks into a persons imagination effortlessly!
"
-- Amazon Customer
Amazon Reviewer
"
GOOD AGAINST EVIL-I always look for the good in everything. However, evil is as real as goodness. I couldn't put this down so I finished it in one afternoon. I highly recommend this book that is filled with life and encourage from teens on up to read and enjoy this story. Great book !
"
-- Cool
Amazon Reviewer
Get the e-book:
Paperback available at:
Other Books in this Series: