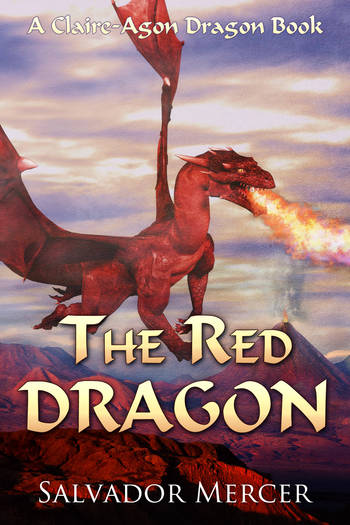 The Red Dragon
A Claire-Agon Dragon Book (Dragon Series 5)
Series: Dragon Series
A thousand years ago, on the world of Claire-Agon, a war raged between men and dragons.
The Royal Historian, Diamedes, finally faces the stark truth involving the rising of the dragons, and the true intentions of the Kesh wizards in this fifth dragon Claire-Agon tale.
The realms of Agon are betrayed, as the Kesh wage war upon them, and rouse the anger of their ancient nemesis, the chromatic dragons. With Dor Akun approaching, the leaders of Agon's civilized realms must band together in the hope of staving off certain extinction.
Meanwhile, the truths of the ancients becomes clear, and the young barbarian chieftain, Azor Koll, must decide whether to lead his people in the service of the great beasts or risk destruction from friend and foe alike.
Azor Koll soon discovers that, in the world of Claire-Agon, when dealing with a Red Dragon, sometimes blood is thicker than water.
Get the e-book:

Praise
"
DRAGONS, WIZARDS AND WARRIORS, A WORLD OF MYTHS COMING TO LIFE-In this thrilling book of warring between different nations of clans fighting for dominance, the mythical red dragons awaken early from their thousand year sleep, and the denizens of this world find they a greater danger to fight than each other. This book ends a five-part series of tales of dragons awakening from their sleep and attempting to wipe out the human population once and all. I found the entire series interesting, exciting and full of adventure, following various heroes who stand up to face the dragons, who, according to myth and more, awaken from their thousand year hibernation, ravenous for murdering and plundering the world of man. Each band of heroes brave enough to face this threat has a story of relationships of love and hate interwoven in the adventures, each hero's character masterfully detailed. I wonder how much of our own world and it's plight the author was skillfully revealing in these relatively short books in this series. If you like stories of adventure and bravery interspersed with betrayal, fighting, and sorcery, you won't be disappointed.
"
-- Dorothy Brandes
Amazon Reviewer
"
ANOTHER FANTASTIC READ!-I have found my new favorite Author! Not only are his books exhilarating to read, the flow and character development is seamless. Can't wait for the next one, and usually the wait for the next book isn't long. Great work Mr. Mercer!
"
-- Chris E.
Amazon Reviewer
"
NICE CHRONICLES-Great read. Enjoyed it so much that I have purchased the follow up series.
"
-- Barbara
Amazon Reviewer
Get the e-book:
Other Books in this Series