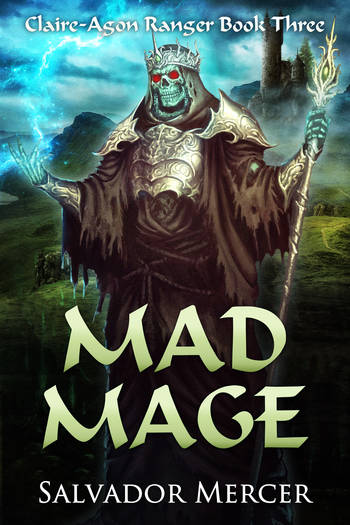 Mad Mage
Claire-Agon Ranger Book 3
Series: Ranger Series
When EVIL rises, GOOD needs a Hero.
A thousand years ago, on the world of Claire-Agon, a war raged between men and dragons, destroying the creatures and the land's many civilizations.
The saga continues as a simple Ulathan family faces mad wizards, crazed undead, bloodthirsty barbarians and the world's most noted thieves and assassins. The planet Dor Akun, known as Father Death, approaches with the great Pentium Passing occurring only once every thousand years, and promises to fulfil age old prophecies, revealing a secret that will resurrect ancient evils to the world of Claire-Agon… Dragons.
Can Targon free his family and help stem the tide of darkness that threatens to cover the land before it's too late?
Get the e-book:
Praise
"
AWESOME-This book was extremely well written. He did a lot of world building in the first two books and help me to enjoy immensely the third book. The Author lets you get lost in this world without having to resort to good people getting killed all the time, or having rape scenes. Don't get me wrong Game of Thrones is an excellent book but he didn't have to resort to some of the stuff that the game of thrones did
"
-- Doctor Sage
Amazon Reviewer
"
GREAT BOOK!!!-A thrilling read that hooks and delivers! The adventure and multiple story lines told throughout the series play out seamlessly.
"
-- Casey Coates
Amazon Reviewer
"
COMPELLING READ!-Salvadore Mercer's Clair-Agon books are an amazing continuing story of a world fighting for survival against magical slavery. Interesting and unique, the story line was entrancing and compelling. Thank you Mr. Mercer for continuing this story!
"
-- Croitiene ganMoryn
Amazon Reviewer
Get the e-book:
Other Books in this Series: