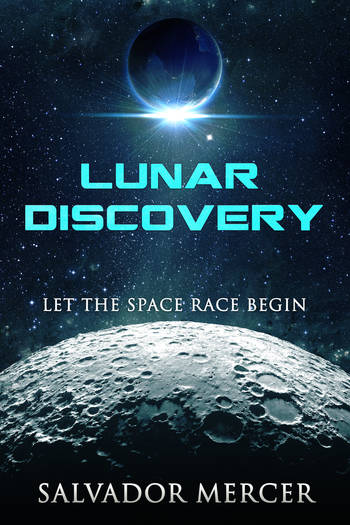 Lunar Discovery
Let the Space Race Begin
Series: Discovery Series
When a Chinese rover discovers an alien technology on the dark side of the moon, it is up to Richard 'Rock' Crandon and his NASA team of scientists and engineers to devise a way to return before the Chinese and Russians.
Forced to deal with bureaucratic oversight and a complex team of personalities, Rock Crandon pushes his team to their limits.
With pressure mounting, the world is pushed closer to conflict and war as the NASA team finds itself seriously behind in the newly initiated space race. The future of mankind, its ideological and technological advances are at stake, as the world's super powers race to discover what lies on the dark side of the moon.
Who will get there first, and at what cost?
Get the e-book:
Paperback available at:
Audiobook available at:
Praise
"
The author has written a very compelling story with a good plot line that has a throwback to the Cold War. Who will win, Russia, China, or the USA?
"
-- Michael Gallagher
Amazon Hall of Fame & Top 100 Reviewer
Free Kindle Books & Tips Blog.
"
I read a lot of Sci-Fi and this may be my favorite so far!
"
-- Mark Boyett
Professional Narrator of the Award Winning Audiobook Company, Podium Publishing.
"
Lunar Discovery is one of the best hard sci-fi novels I've read for years, and would make a very exciting movie.
"
-- Amazon Reviewer

"
Salvador Mercer has written a fantastic novel of the possible future. This book has it all: action, suspense, drama. What more could you ask for? I thoroughly enjoyed this and I could hardly put it down.
"
-- Amazon Reviewer

"
Fast-paced and different novel. This brings international geopolitics into a moon discovery in an intriguing way.
"
-- Amazon Reviewer

"
This is one that kept me up reading and even distracted me from Sunday football... Highly recommend.
"
-- Amazon Reviewer

"
Great book, kept me at the edge of my seat.
"
-- Amazon Reviewer

"
This book got it all correct. Great plot right off the bat. Plenty of science for science fiction. Believable action. A daring race between countries for an ingenious plot. Alternate history. Good ending.
"
-- Amazon Reviewer

Get the e-book:
Paperback available at:
Audiobook available at:
Other Books in this Series: